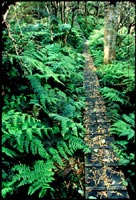 Trail in Waikamo preserve,
Hawaii 1999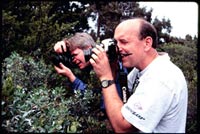 Professors Ken Sytsma and Paul Berry at Haleakala: Canon or Nikon?
See more pics from the Hawaii Tropical Field Biology Trip here.

I guess half the fun is playing with your toys.
I've been taking pictures with a SLR camera since December 1998 when I went on a trip to Hawaii for a class in tropical field biology while at the University of Wisconsin-Madison in the US.
Until then I used a simple point and shoot. I used a disposable camera during an internship at the Research Training Program of the National Museum of Natural History in Washington DC, in the summer of 1998. Although, there were guided tours, behind-the-scenes and access at one of the leading natural history museums in the world - it turned out most of the pictures were also disposable.
At that time, one of my flatmates in DC from Germany showed me some really nice slides of his work/study in Costa Rica. Well I saw what I was missing out on - I had to get something better than a disposable camera, especially since the following winter, I was going on that 3 week Hawaiian field trip. After much reading on the internet, trying to decide on a set with my limited budget, I settled on a nikon set up (N60, 28-70 & a 70-300 zoom lens kit).
I now use the following setup:
Nikon N80 QD
Nikon FE2
Nikorr AF-D 24mm 2.8
Nikorr AF 50mm 1.8
Nikkor AF-D 80-200 2.8 IF ED
Nikorr AF-D 105mm 2.8D micro
Kenko 2x converter
Bogen 3401 tripod legs & Bogen 3055 ballhead
A few UV filters, a circular polariser and a warming filter