As there is already a lot information on the web I have taken the lazy way of providing general information on Bhutan by putting links on this page. Instead of re-writing all the information myself, I will point you to differrent websites on Bhutan that i have visited and think are worthy of a visit.
Due to the frequent questions that I used to receive, I have added some additional information on how you might go about visiting Bhutan. You can also browse the gallery where most of the images are accompanied by my ramblings.
External sites will be opened in a new browser window. If you find any dead links, or if you want a link added here please let me know. Thank you.
Portals
News
Sites with useful information & documents
Environment and Natural Resources
Misc Stuff
Personal Websites
The following are some of the earliest (1998) Personal Websites on Bhutan I've seen. Not sure if they are active.
International Development Agencies in Bhutan
Despite the absence of abject poverty in the kingdom and a relatively good quality of life, Bhutan is still classified as a "Least Developed Country". Due to this economic development status, Bhutan receives a lot of international development aid. The following international development agencies are currently involved in Bhutan. I pulled the list out of the phone book and made a search on the web for their websites, so I have no idea about their mandates or policies;
Canadian Cooperation Office
CIDA homepage
DANIDA Danish International Aid Agency
German-Bhutan Health Friends Association
Deutsche Gessellschaft fur Technische Zusammenarbeit (GTZ)
GTZ Bhutan profile
Helvetas/SDC Program (Switzerland)
Helvetas/SDC bhutan profile
Norwegian Santal Mission
Save the Children Federation
Save the Children : Regional Profile including Bhutan

Some noteworthy Books & Movies to check out.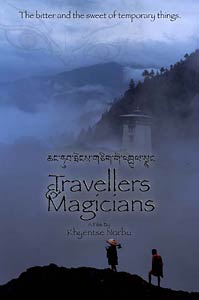 Travellers and Magicians: The first internationally released Dzongkha movie shot in Bhutan. By the director of "The Cup", His Holiness Dzongsar Khyentse Rinpoche
"Beyond the Earth and Sky" Excellent book by Jamie Zeppa, based the time she spent as a volunteer teaher in eastern Bhutan.
Bhutan the last shangrila: exellent documentary about the country, its environment and culture. Living Edens Series by PBS and Readers Digest.